From our sponsors: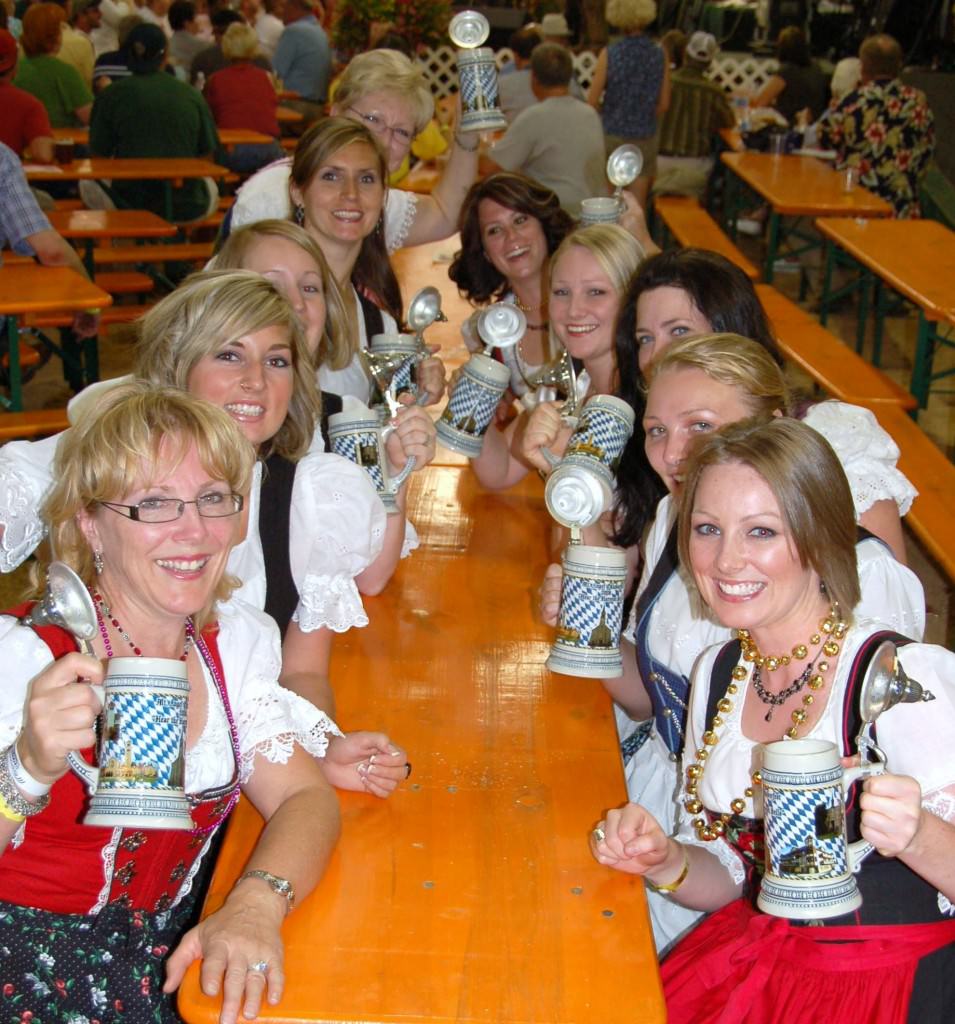 Mount Angel Oktoberfest
September 11-14, 2014
Thursday – Saturday: 11 a.m. – Midnight
Sunday: 11 a.m. – 9 p.m.
Most events are Free | All Ages
Weingarten, Alpinegarten and Biergarten: $5-$14 | 21+ After 9 p.m.
See oktoberfest.org for information on lodging and events.
See the Full Schedule at oktoberfest.org
Like us on Facebook to enjoy the countdown to the festival.
One of the longest standing, best-loved folk festivals in the Northwest, celebrates its 49th anniversary from September 11 through September 14, 2014. The Mount Angel Oktoberfest began as a traditional fall festival to celebrate the bounty of the earth and the goodness of creation.
A Great Bavarian style party as well as a huge fundraiser, the Oktoberfest is still going strong, carrying with it the quality, warmth and fun of a community effort unparalleled in the Northwest. Oktoberfest kicks off with a traditional German Webertanz (May pole dance) performed by Mount Angel school children at noon each day.
Entertainment
Highlights
Friday and Saturday night street dances
Biergarten – Alpine Rock and upbeat music
Weingarten – with musicians from Germany, Canada, and Mt. Angel
Alpinegarten – interactive and open for kids at all times
concerts in St. Mary Parish Church,
all-free kindergarten – with magicians, jugglers, pony rides, petting farm and much more
The "Original Donaumusikanten," a world class Bavarian band, is flying directly from Germany and sponsored by Lufthansa, the official airline of Oktoberfest. The German band plays daily in the Weingarten. The Oktoberfest Weingarten captures the ambiance of the great wine festivals along the Rhine River. Select wines from Germany and the Northwest, Warsteiner German beers and Budweiser. In addition to the Donaumusikanten, you will meet the Z Musikmakers from Mount Angel, and the Gordanairs European Musik from Canada.
The Alpinegarten is open to families all day, and features lively interactive entertainment reminiscent of a Bavarian village folkfest. Entertainment in the Alpinegarten features the Gruber Family Band and the Saltzburger Echo Band, This versatile band brings the Alps to Mount Angel, playing "Old World" folk and traditional music from Germany, Austria and Switzerland. They recently returned from a successful European tour. They amaze audiences with their 12-foot alpenhorns, Swiss cowbells and harmony yodeling.
The Alpinegarten features delicious beers and refreshing wines. The McMinnville Knights of Columbus operate the Gourmet Coffee Shoppe and Deli in the Alpinegarten with the help of Allann Bros Coffee Company.
The Biergarten, located in the Mount Angel's Festhalle, features Die Schlauberger, America's #1 German Band with their mix of Alpine Rock. The Biergarten is famous for lots of great dancing and singing, good food and of course beer.
The Prostgarten is a quiet place to relax while strolling through the streets, and listen to accoustic accordion. Grab a sausage and kraut or other festival favorite from a food booth; then make your way to the Prostgarten and select a Warsteiner beer or German Wine imported by Kastle Hill to accompany your meal.
The Oktoberfest Kindergarten is filled with delightful free entertainment for young and old alike. It features 4-H barnyard, pony rings, interactive bouncing amusements, climbing walls and other physical activities. The Kindergarten Pavilion presents magicians, jugglers and kid oriented entertainment. The real thriller in the Kindergarten is the famous Weiner Dog Race. This is a great place to spend some quality time with the kids.
The Fruchtsauele is a traditional harvest monument expressing our thanks to the Creator for the bounty of the harvest. It is constructed of seeds, fresh fruits, nuts and vegetables mostly grown in and about the village. It is located in the center of the festival area and displays the annual festival theme. It is a great place to meet and gather up your family and friends.
The festival offers golf, track and volleyball tournaments, a 10-kilometer fun run and 5-kilometer run/walk. The fun begins on Saturday at 9 AM and starts at Humpert Park. The Oregon Marathon will start and end at Oktoberfest this year, be ready to run on Saturday, September 13.
The Cruz-n Car Show on Saturday and Sunday, actually two shows in one, features 100 vehicles on Saturday and a whole new group of 100 vehicles on Sunday. Thirty awards are presented each day. The award winners from Saturday will be back on Sunday and on display in our 'Winners Circle.'
No trip to Mount Angel is complete without a visit to the century old Benedictine Sisters' Queen of Angels Monastery and to Mount Angel Abbey. Busses leave from near the bandstand every half-hour to the abbey, from 11 AM to 5 PM on Saturday and Sunday. The Benedictine Sisters offer daily self-guided tours of their monastery grounds, an icon exhibit and operate a charming gift shop with many objects hand-crafted by the nuns.
Oregon's oldest and longest running Oktoberfest began in 1966, part of the tradition of over 125 years of harvest festivals under various names and formats. The community founded by German pioneers in 1867, with its surrounding agricultural countryside bears a striking resemblance to rural Bavaria, making an Oktoberfest a natural choice.
The Oktoberfest format was an immediate success, attracting 39,000 people in 1966 its first year. Since then, the festival has grown every year, with average attendance now topping 350,000. The festival is organized and run by volunteers. It is the largest, all volunteer led event in the Northwest. It is dedicated to providing a quality, reasonably priced family celebration, which raises funds for deserving, non-profit organizations in Mount Angel and the surrounding communities.
Since it began 49 years ago, Oktoberfest has donated over three million dollars to schools, churches, civic organizations, youth activities, senior services, hospitals, and a score of other worthwhile causes. This does not include the money earned by the fifty food booths, sponsored by civic and non-profit organizations. Last year they grossed over $650,000. For many of these groups, Oktoberfest is their major fund raising activity of the year.
Throughout the years, Mount Angel's Oktoberfest has offered traditional Bavarian food, fun and entertainment for the whole family. The 2013 Oktoberfest features fifty food booths, a large arts and crafts show and a whole lot more.