These all-ages events are free and run from 6 to 8 p.m. The Nature Mobile and Rec Mobile will engage kids with games, crafts and other fun activities at the concerts. Community partners and sponsors will add to the festivities. Buy food and beverages at the park, or bring a picnic. Leashed dogs are welcome.
From press release:
S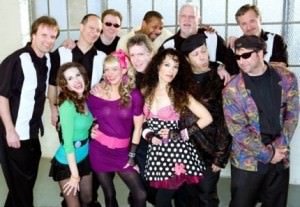 ummer Concerts & Theater in the Park
Summer 2014
6 p.m. | FREE | All Ages
More info: thprd.org
July 3: Theater – "The Taming of the Shrew"
Arnold Park, 17770 SW Blanton St., Aloha, OR 97007
Original Practice Shakespeare Festival employs the techniques of Shakespeare's time – limited rehearsal; an onstage prompter; fast-paced, energetic acting; and lots of audience interaction. This lends a much more immediate, organic and improvisational feel to the performances.
July 10: Concert – 5 Guys Named Moe
Garden Home Park, 8020 SW 83rd Ave., Portland, OR 97223
The 11-member 5 Guys Named Moe is the ultimate dance and show band. Patterned after the big, visually creative bands of the 1960s, 5 Guys Named Moe uses horn sections and dynamic vocalists to create a full sound.
5 Guys Named Moe started out as a 5-piece in 1984 and took its name from Louis Jordan's 1943 hit. Over the past 30 years, the band has grown into a slammin' 11-piece show band that is as much fun to watch as it is to listen and dance to!
July 13: Theater – "Side By Side By Sondheim"
Evelyn M. Schiffler Memorial Park, 5475 SW Erickson Ave., Beaverton, OR 97005
The volunteer-run Beaverton Civic Theatre presents the musical revue featuring the songs of Broadway and film composer Stephen Sondheim.
July 17: Concert – Picante Latin Jazz
Center Street Park, SW Denfield Street and SW Mercer Terrace, Beaverton, OR 97005
Enjoy hot Latin rhythms from one of Portland's premier Afro-Cuban jazz bands. Picante Latin Jazz's members boast impressive resumes, performing near and far with many big names. Together, they deliver piping-hot entertainment.
July 31: Concert – The Blackberry Bushes
Greenway Park, Access off SW Pearson Court and SW Parkview Loop, Beaverton, OR 97008
Bluegrass trio The Blackberry Bushes draw from deep roots of American traditional music to create a playful and resonant sound with twang and sophistication. Joyful singing and enchanting songwriting are supported by carefully constructed soundscapes that feature virtuosic fiddle and bowed bass.
Aug. 14: Concert – Coolade
Raleigh Park, 3500 SW 78th Ave., Portland, OR 97225
Coolade plays your favorite party hits from the '60s to today. With exceptional musicianship, star- powered vocals, and lots of interactive fun, Coolade's energetic performance will keep you dancing and entertained until the last song.
———————
Related Portland Events and Info:
———————————————
Our new Portland Events App for PDX Pipeline is now available for iPhones, Android phones and iPads!
Now, you can have all of the great Portland events from our website in the palm of your hand when youíre out on the town.
–————————
———————————————