This show has been postponed until September. Please check crystalballroompdx.com for updates.
———————————————
From our sponsors: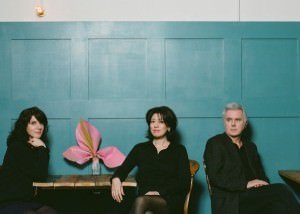 Lush
April 19, 2016
7 p.m. doors, 8 p.m. show | $25 ADV, $30 Doors | All Ages
More info: crystalballroompdx.com
Crystal Ballroom
1332 W. Burnside, Portland, OR 97209
20 years after Lush's last studio recording and live show, one of the most greatly missed British bands of the Nineties have decided that 2016 is the time to put an end to the constant requests and are to play a series of shows in the spring, visiting America, the UK and mainland Europe.
Lush established themselves as a band who expertly fused melody and guitars, a sound that was christened 'shoegaze' well after they released their first records on 4AD in 1989, though they always had a stronger vocals and pop-centric sparkle than the typical shoegaze band.
Though Emma, Miki and Phil are all back on Lush duties, it's evident to them that the fourth member of the band, drummer Chris Acland, is missing. The band officially announced their split in February 1998, but the end had come in October 19996 when, completely unexpectedly, Chris hanged himself, leaving his shocked and grieving bedmates feeling that it was impossible to carry on without him. Given such an ending, it's a chance for Lush to create a new chapter in their lives, while still respecting what has been lost.
"Even now," says Miki, "it won't be at all easy knowing Chris won't be there. We know you can't recapture what you had before, but hopefully it will be brilliant in a different way. If I think of all best bits of the band, how great it is to play live, and to play your own songs, then there's an open door you can walk through. I know I'll regret it if I didn't."
The loss will be somewhat mitigated by the presence of Justin Welch, an old friend of Chris' who drummed for Spitfire and then Elastica. "Justin even still has an old snare drum of Chris'," says Emma. "But Justin can't replace Chris, he'll just be doing his own thing."
Justin also worked with Emma on the initial demos for her post-Lush band project Sing-Sing, while Miki cut all her ties with music except for the very occasional guest vocal (both on record and stage). Phil joined The Jesus & Mary Chain and is still gigging with the band today. Having just completed the Mary Chain's Psychocandy tour this year, the timing is perfect as he's free to reunite with Emma and Miki, who themselves didn't want to get back together – both being parents with full-time jobs – until it felt absolutely right.
For Lush fanatics, and anyone who needs reminding of the band's recorded legacy, 4AD are releasing a limited edition box set at the beginning of December, with artwork by Chris Bigg, who, alongside design chief Vaughan Oliver, was responsible for all those iconic 4AD covers in the Nineties. The box is a five-disc set, comprising the early compilation Gala (1990), the three studio albums Spooky (1992), Split (1994) and Lovelace (1996) and the B-sides collection Toppling (the Canadian version, also 1996), plus all manner of rarities (B-sides, radio sessions, remixes and demos, some previously unreleased).
But that was then, when Lush were part of a thrilling explosion of British guitar bands who took on the mainstream (interesting fact: they are the only 4AD band to have been on Top Of The Pops). In 2001, 4AD released a Lush Best Of, which was=s named after their 1996 single 'Ciao!' which in one sense, served a belated 'wave goodbye'. But this is now…so say hello, Lush. Good to have you back.