From our sponsors: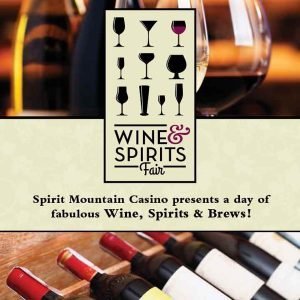 Spirit Mountain Casino Spring Wine & Spirits Fair
April 16, 2016
Noon – 5 p.m. | Free
More info: spiritmountain.com
Spirit Mountain Casino
27100 Salmon River Hwy, Grand Ronde, OR 97347
Attention, wine connoisseurs, spirits lovers, and craft brew enthusiasts! On April 16th, Spirit Mountain Casino will transform into Oregon's go-to destination to sample all of the delicious tastes of our state at the Spring Wine and Spirits Fair. Join us at the Main Event Center from 12 p.m. to 5 p.m. on Saturday.
Spirit Mountain Casino is proud to offer free entry to the Wine and Spirits Fair. Event features more than 20 of Oregon's finest wineries, distilleries, and breweries, making it the prime location to eat, drink, and be merry.
Oregon's wines and beers are globally renowned, earning the state a reputation as one of the best producers of the world's top distributers. Spirit Mountain is located in the heart of the Willamette Valley, a beautiful region that is home to the largest concentration of vineyards and wineries in the state. With more than 200 vineyards surrounding the casino, Spirit Mountain is an ideal location for wine lovers.
The Wine and Spirits Fair has become one of the most popular bi-annual events in the region, uniting visitors from all over the state around a shared love of delicious drinks and tasty treats. Sample the Willamette Valley's world-famous Pinot Noir, try an IPA made from one of the numerous local breweries, and enjoy demonstrations and dishes from internationally acclaimed chefs. After you've satisfied your taste buds with cheeses, confections, and other snacks, you can explore the wares showcased by the region's finest artisans and vendors.