From our sponsors: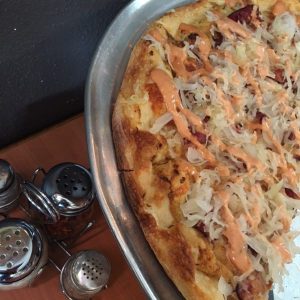 Portland Pizza Week: The Reubenesque @ Blackbird Pizza
$2 a Slice
April 18-24, 2016
More info: portlandpizzaweek.com
Blackbird Pizza
1935 SE Hawthorne Blvd, Portland, OR 97214
(503) 236-5223
BRACE YOURSELF, PORTLAND. Here comes Pizza Week.
Proudly presented by the Portland Mercury and Widmer Brothers Brewing, Pizza Week is about to take over our fine city—with Portland's favorite pizzerias offering special, one-of-a-kind slices for only $2 each! We've got Sizzle Pie! We've got Roman Candle! We've got Hot Lips! We've got Atlas and Bella Faccia and Blackbird and Good Neighbor and Straight from New York! And a ton more! At each of those glorious pizzerias, you'll find $2 specialty slices you can't get anywhere else, served right into your pizza-loving mouth. From here on out, April 18-24th shall be known as the greatest week of your life.
Pizza Week Preview: Blackbird Pizza's "The Reubenesque"
Blackbird Pizza's Reubenesque is simple: It's a classic Reuben, BUT ON A PIZZA! With tangy sauerkraut, thin-sliced pastrami, Swiss AND mozzarella, hints of mustard 'n' caraway, and a lot of olive oil and garlic, a Reubenesque slice is a hearty meal, with cooked-in nostalgia for the East Coast, the pizza equivalent of Proust's madeleine for anyone who has ever looked back fondly on time spent in a New York deli and thought, I could really go for a pastrami sandwich right about now, only to be foiled by the knowledge, that, oops, you moved to the west coast YEARS AGO. O, REMEMBRANCES OF PASTRAMI PAST! Speaking of pastrami, it chills out on Blackbird's strong, chewy, bagel-y crust with fellow toppings piled high enough to be visible in profile. The Reubenesque makes a few key deviations from its sandwich origins: Blackbird has swapped out traditional Russian dressing for Thousand Island, piped across the mounded sauerkraut in a neat orange zig-zag. And the sauerkraut is one of the last toppings applied, only AFTER the pizza's done cooking. Yes, this is a Reuben, but it was made in a west coast kitchen. – Portland Mercury