From our sponsors: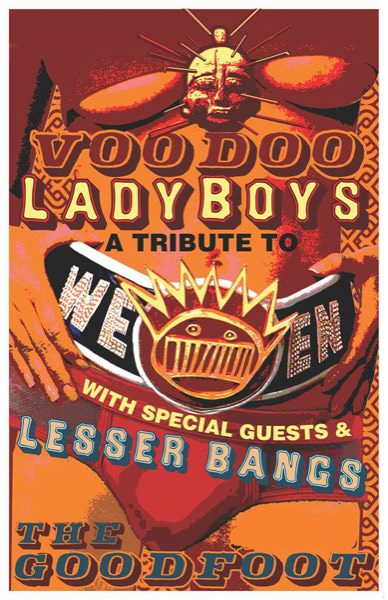 Voodoo Ladyboys – Tribute to Ween
December 3, 2015
Doors 9pm / Music 10pm | $7 | 21+
More info: thegoodfoot.com
The Goodfoot
2845 SE Stark St, Portland, OR 97214
(503) 239-9292
Lesser Bangs are set to reclaim the massive power of rock and roll that has begun to quietly fade in the era of samples and laptops. Inspired by the valiant battle for rock's soul that Lester Bangs championed in his writings, Lesser Bangs embody their namesake's passion for truth in music. Forged in 2012 by keyboardist Adam King and guitarist Sean DeGregorio, LBs finds the pair's like-minded but unique takes on rock and pop fusing in harmonic splendor. Endearing hooks are gracefully attacked, and the potential for psychedelic expansion lies within each melodic turn. Both King and DeGregorio write songs that are inherently thematic – where the lyrics and melodies can't exist without one another, and where each tune is a story unto itself. Rounded out by bassist Scott DeWitt and drummer Justin Birge, Lesser Bangs make music that's more electrifying than a toaster in a bathtub. The four-piece feeds off one another's passion and technique, and the result is a throbbing life-force of rock and roll. Remember why you first fell in love with the electric guitar. Find the piano sexy once again. Let Lesser Bangs reignite the sonic quiver of your soul.
When Ween shockingly called it quits in 2012, a gaping hole was left in the hearts of all who worshipped at the holy altar of the Boognish. Their end marked a devastating blow to lovers of rock, comedy, social experimentation, and all things brown. But on Halloween night of 2013, a group of Portland musicians joined together to host a black-mass resurrection of the band's spirit at Club 21. As the night progressed, a wafting aroma of pork roll, egg and cheese began to emit from the stage amplifiers and some in attendance swear they say a spiky-haired stallion emerge from the fog machine. The Boognish spoke to the musicians that night, and instructed them to bear the torch of his legacy – they would no longer be known as men, but rather as The Voodoo Ladyboys. As such, the VLBs not only pay homage to the spirit of Ween musically, but also through their embrace of the absurd. Sonic annihilation hasn't felt this good since the liberty bell first cracked.