From our sponsors: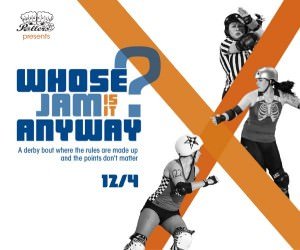 Whose Jam is it Anyway? – You make the Derby action happen
December 4, 2015
Doors 6j:45 p.m., Show 8 p.m. | $15 Cash, $16 Credit Card
Tickets: rosecityrollers.com
Oaks Park (& The Hangar)
7805 SE Oaks Park Way
Portland, OR 97202
Do you like to be in control? Do you love to watch sports, but have always wished that you could call the shots?
Well, we've got you covered! Introducing "Whose Jam Is It Anyway: The game where the rules are made up and the points don't matter"!
Join us on December 4th at the Hangar for a roller derby bout like you have never seen before. Not only will you get to a sneak peek at our skaters before opening day, but you will also be blown away by some of the most fierce and talented alumni skaters to grace the track.
The nitty-gritty:
So here is how it is going to go down. What looks like a normal bout transforms before your very eyes as fans (you!) are able to purchase plays. For $10, you can clear the penalty box for a team. Or for $20, you can force the player of your choice to switch teams for the rest of the bout. And if you really want to throw a wrench in the game, for $50, you can watch the bench clear out as both entire teams play in one jam. These are just the tip of the iceberg. With a ton more options for how you can mess with this bout, you are sure to find one that will tickle your fancy.
Ever picture yourself standing in front of the bench shouting orders at skaters? Now you can! Just to complicate things even more, we are auctioning off the chance to be a team coach for the night. Keep an eye out for an eBay auction in late November for the chance to be part of the action in a totally different way.