From our sponsors: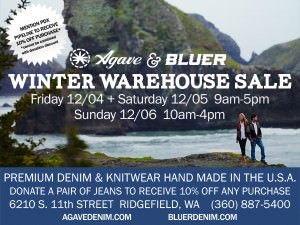 Agave & Bluer Winter Warehouse Sale
December 4-6, 2015
More info: agavedenim.com
Agave Denim Factory Warehouse
6210 S 11th St, Ridgefield, WA
Great deals on Agave Denim jeans, knitwear, sweaters, jackets + more for men & women.
ALL JEANS AND KNIT TOPS ARE MADE IN THE USA.
Great deals on Bluer Denim jeans and products.
Friday December 4th 9AM to 5PM: Live music – Jeff Wadell Solo
Saturday December 5th 9AM to 5PM: Live music – Upfront Band
Sunday December 6th 10AM to 4PM
DENIM EXCHANGE
Bring in your old denim to donate and receive 10% off.