From our sponsors: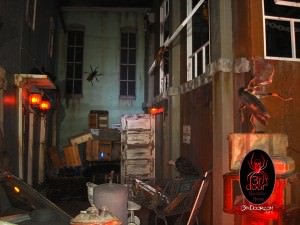 13th Door Haunted Attraction
October 9-11, 15-18, 22-November 1, 2015
$15 General, $13 Group Rate, $25 VIP Front of the Line
No One Under 13 w/ out an Adult
More info: 13thdoor.com
Mental Trap
3855 SW Murray Blvd, Beaverton, OR 97005
At the 13th Door Haunted House of Oregon (the Original), you will experience Portland's Best Haunted Attraction! With our highly detailed sets you will become part of the horror as you journey among our animated creatures and theatrical actors.
Join Portland's oldest Halloween Attraction this fall at our all new, even LARGER location at 3855 SW Murray Boulevard, dead next to K-Mart off T.V. Highway in Beaverton, Oregon for our celebration of the Year of Thirteen.
Within these dank endless hallways and unhallowed grounds, demented creatures and spirits have crossed over consuming those who have entered before you. Find yourself plagued by rotting zombies in an old overgrown cemetery and almost trampled to death by the wild horse dragging its hearse and undead passengers!
Enter the underground boiler room with its twisting dark passages where rabid dogs have been found feasting on rotting human corpses. Feel the breathtaking power of a thunder and lightning storm as it rages around you while traversing the haunted woods. Attempt to seek shelter in the abandoned shed where you discover this is not a place of safety, but a torturous butcher room for you and previous lost travelers!