From our sponsors: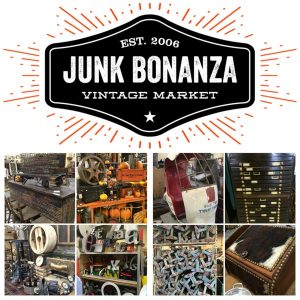 The Junk Bonanza
October 9-11, 2015
Early Entry $25 ADV, $30 Doors (8-10 a.m. Friday)
$10 General
Friday 10 AM-5PM.
Saturday 9 AM-5PM
Sunday 9AM-4PM
More info: junkbonanza.com
Clark County Event Center
17402 NE Delfel Road, Ridgefield, WA, 98642
The Junk Bonanza, for 10 years a must-shop market destination for serious vintage lovers, is expanding to the Pacific Northwest. The Bonanza has chosen the Clark County Event Center in Ridgefield, WA, for its Oct. 9-11 show, its second-ever outside of Minnesota.
The Bonanza is long-revered by shoppers for its artful vignettes of castoff and vintage finds, antiques, architectural salvage and artisan-repurposed and handmade goods. Each twice-yearly Minneapolis show draws vendors and more than 10,000 visitors from throughout the United States for a select shopping experience: Merchandise is predominantly 40 years old or older, or created using items of that age. Juried vendors offer an amazing trove of furniture, decor, jewelry, textiles and apparel; each chosen specifically for their quality and mix.
Now, Portland-area shoppers, too, can experience this distinctive market. Bonanza founder Ki Nassauer has grown the original Bonanza from its humble start with 19 juried vendors to hundreds who vie to sell at its shows. Nassauer calls this event "the place to be for shoppers who are as serious about vintage as they are about fun."
Among special activities at this show:
Free hourlong workshops each day will provide attendees hands-on experience with Chalk Paint® by Annie Sloan, the self-priming, clay-based paint prized by DIYers and furniture refinishers. Classes will be taught by area stockists and a full line of paints and finishes will be available for purchase.
Appearances by Jo Packham, Creator and Editor-in-Chief of the popular Where Women Create, Where Women Create Business and Where Women Cook magazines. She will meet and greet attendees and sign copies throughout the show.
"Get Lucky" $25 vendor coupon giveaways all day Sunday. Register during the show to win $25 coupons donated by generous Bonanza vendors; they can be redeemed for merchandise from individual booths during the event.