From our sponsors: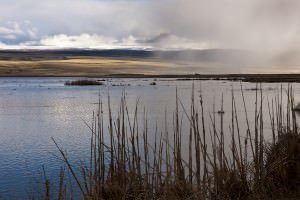 La Lluvia / RAIN:
Nine Northwest Artists Interpret Rain in October at Columbia Center for the Arts
October 2-31, 2015
Opening Reception October 2 6-8 p.m.
Free | All Ages
More info: columbiaarts.org
Columbia Center for the Arts
215 Cascade Avenue, PO Box 1543, Hood River, OR, 97031
Columbia Center for the Arts in Hood River celebrates the Pacific Northwest's iconic phenomenon with the October Gallery exhibition: La Lluvia/RAIN. The juried show, which was "precipitated" by more than a year of planning, brings together nine talented artists whose multimedia works delight in the mysterious beauty of water that falls from the sky. The works welcome autumn and a delicious remedy for the drought.
Attend the opening reception in the Gallery on First Friday, Oct 2nd, 6-8pm to talk with the artists and enter to win a designer umbrella from Bella Umbrella. Soak in the simplicity of RAIN, with refreshing interpretations on the theme from watercolor to oil, acrylic to pastel, and from photography to poetry.
Participating artists include Christine Colasurdo, Rachel Harvey, Jean Hauge, Jurgen Hess, Joanna Kaufman, Chas Martin, Cathleen Rehfeld, Cherilyn SunRidge, and Cindy Riddle.The exhibition is juried by Carl Annala, and co-curated by Leah Hedberg and Peter Marbach.
"If you've ever been caught in the rain and soaked, you know it's a richly sensuous and memorable experience. And that's the way we anticipate this show! Rain holds every kind of mood and emotion, and it gives life. It's been a source of inspiration to artists for as long as people have been making art," said Hedberg.
A month of RAIN-themed special events will accompany the Columbia Art Center's October exhibition La Lluvia, including Meditations on The Way of Tea, a captivating presentation by members of Kashintei Kai from the Portland Japanese Garden and Poet Margaret Chula on October 24 at 2pm in the CCA Theatre.
The show is made possible by sponsorships from Friends of the Columbia Gorge, pFriem Family Brewers, Bella Umbrella, Good Medicine Tea Lounge, and Kaze Japanese Restaurant.