From our sponsors: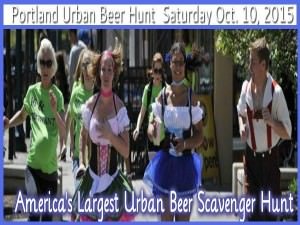 Urban Beer Hunt
October 10, 2015
Noon | $39 | 21+
More info: urbanbeerhunt.com
Tickets: eventbrite.com
Urban Beer Hunt is Part Urban Race, Part Hunt.
Throw in a few wild beer checkpoints and now we're talking fun!
Teams compete in one of the craziest urban races ever. Following text message clues, players will be covering some 3-5 miles on foot.
Each team will solve clues, complete some amazingly fun beer challenges, and eventually race to hunt down the mystery location of the Urban Beer Hunt Trophy. One lucky team will be taking home the Cash! Prizes awarded at the after party for the top ten placing teams and best team costume too!
Prizes & Party
Top 10 finishing teams win!
$500 First Place.
$100 Second Place.
$ 50 Third Place.
4th-10th Place – Prizes.
$ 50 Top two team costumes.
Team costume contest will take place at the awards party and be judged by audience applause.
What To Bring:
Cell Phone- Used to receive text message clues. Fully charged.
Internet Connected Device – Used to google help to solve clues.
A Street Map or GPS – For help navigating the area.
A Digital Camera – Team pics required at each stop.
(5) Five individual $1 dollar bills Per Player- Used to complete special tasks.
Water- To help keep hydrated.
Tickets- Please print out and bring your tickets, event information.