From our sponsors: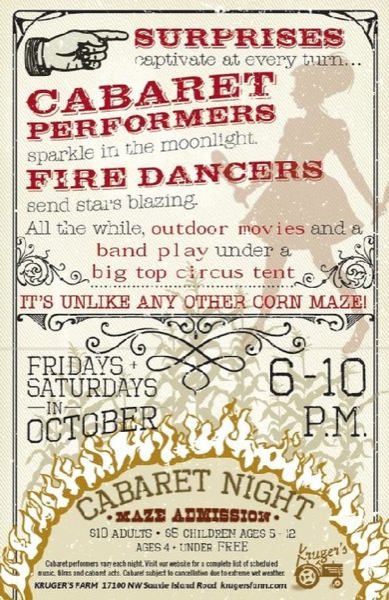 Kruger Farms 2014 Cabaret Maze
Fridays and Saturdays October 3-31, 2014
$10 Adults, $5 Children | All Ages
More info: krugersfarm.comPumpkin Deal: brownpapertickets.com
Kruger's Farm
17100 NW Sauvie Island Rd, Portland, Oregon 97231
Fire dancers, hoola-hoop artists, outdoor movies and live music will light up Kruger Farm's cabaret corn maze on Friday and Saturday nights during the month of October.
The maze, designed by local artist Peter Rockwell, features a magician theme that will come alive from 6 p.m until 10 p.m. on Cabaret Nights. It's a challenging puzzle with more than five miles of trails that all lead to an outdoor movie theater and a big top circus tent in the middle of the maze.
—————
Featured Pumpkin Package
For a limited time, save 50% off a fall visit to the farm! This $52 value for only $26 includes: 2 corn maze tickets, 2 big pumpkins (30 lbs. or less), 2 plain caramel apples and 2 ears of roasted corn.
Claim your deal before midnight October 3 at brownpapertickets.com!
—————
Come Hear the Music Play
Visit the big top circus tent located in the middle of the maze for live concerts by local musicians from 6:30 p.m until 9:30 p.m. on the following Cabaret Nights:
Friday, Oct. 3 Scott Law
Saturday, Oct. 4 Laura Ivancie with Student Loan
Friday, Oct. 10 Get Rhythm
Saturday, Oct. 11 New Iberians
Friday, Oct. 17 To Be Announced
Saturday, Oct. 18 Jawbone Flats
Friday, Oct. 24 Bill Rhoades and the Party Kings
Saturday, Oct. 25 Pink Lady & John Bennett Jazz Band
Friday, Oct. 31 Halloween Party in the Circus Tent
Come to the Cabaret
On Friday and Saturday nights after 6 p.m admission to the maze is $10 for adults, $5 for children ages 5 and older and free to those 4 years-of-age and younger.
Haunted Maze
Open on the following dates:
Fridays: October 3 – 31
Saturdays: October 4 – November 1
Hours: Dark – 10 p.m.
Haunting/Cabaret Admission: $15 Adults
$10 Children Ages 5 – 12
Not recommended for small children
Admission to the Haunted Maze includes Cabaret Admission.
Something evil is brewing in the town of Blessed End. Plagued by a rash of of disappearances, children have begun to vanish into thin air. It wasn't until All Hallow's Eve when a trail of evidence led to to the old house at the edge of town where the townspeople knew the horror was taking place. Enter the world of a small town gone witchy. The tale begins as ticket holders board the hayride out to the haunting. As they proceed through the maze and they will meet our incredible cast of characters. It slowly creeps up on them as the story unfolds…part theater… part haunted house…real spine-tingling fear.
No long lines, no huge crowds. Tickets for the maze are sold with timed entries to ensure that patrons are able to get through the haunted maze in a timely manner. Since tickets to the haunted maze include admission to the Cabaret, tickets holders are welcome to explore the Cabaret Maze until it's time for their haunting.
Regular Maze Admission and Hours
The corn maze is open the following hours without the music, cabaret performers or outdoor movies:
Monday – Thursday: 9 a.m. – 6 p.m.
Friday & Saturday: 9 a.m. – 6 p.m. Regular Maze
Sunday: 9 a.m. to 8 p.m.
Admission during non-cabaret times is $6 for anyone 5 and older. Children 4 years of age and under are free.
About Kruger's Farm
Kruger's Farm features a produce market with vegetables and fruit hand-picked every day, u-cut flowers with over 50 varieties, u-pick produce and picnic areas. Kruger's Farm also carries canning supplies and features a retail section with market baskets from Ghana, sun hats and children's garden items. For more information, please visit www.krugersfarm.com or call 503-621-3489. The farm is open daily from 9 a.m. to 7 p.m. and 9 a.m. to 10 p.m. on weekends through October.
Directions to Kruger's Farm Market: Take Highway 30 north past Linnton to the Sauvie Island Bridge. Cross the bridge, proceed north approximately 1 mile on Sauvie Island Road and turn right into Kruger's Farm Market.