From our sponsors: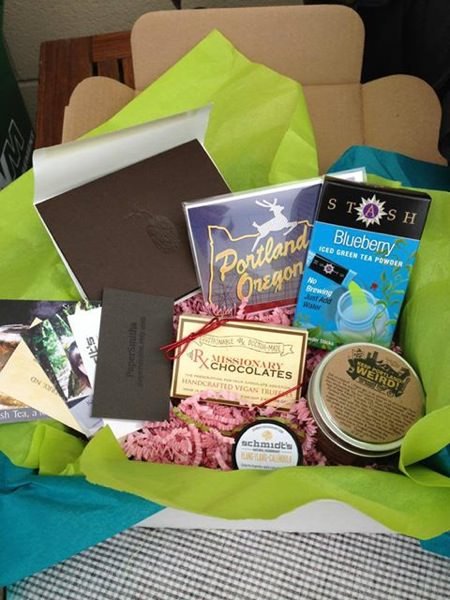 Tique Box Monthly Subscription Service
$30 a month
Sign up at tiquebox.com
See special August deals below.
Subscribe to Portland in a box for $30 per month. Each package will be filled by local artisans who create unique, quirky and well-crafted items for you to discover. Order before August 13 and your box will ship August 15. Get your slice of Portland today by visiting tiquebox.com.
Tique Box, a local company that delivers a slice of Portland to your doorstep, is now offering a monthly subscription box service. The company has partnered with more than 30 Portland artisans to export the city's unique, off­beat and quirky culture to more than 27 states.
To kick­off the new monthly subscription service, Tique Box premiered the "July Portland Backyard BBQ Box" during their Launch Party at Glyph Cafe on July 14. With more than 90 attendees, the celebration was a great way to feature the incredible work of Portland's finest artisans. Tique Box is now selling monthly subscriptions for $30 per month. This month, boxes can be purchased until August 13 and ship on August 15.
Amy Vance, owner of Vance Family Soy Candles, explained why she loves working with Tique Box and featuring her products. "Tique Box takes the time to get to know the faces and hearts behind the products, bringing buying local to a whole new level. It feels like the products aren't just made local with passion, but they are made by friends. Paige and Inger understand it's a little bit of me that goes into those boxes."
Co­Founders, Paige Hendrix and Inger McDowell, are thrilled that their dream of exporting the Portland brand has come to fruition.
"The past year has involved a lot of growing and even more learning. We are so thrilled to work with the best artisans to capture the unique spirit of our creative, quirky and innovative city in a gift box that can be shipped anywhere in the US," said Hendrix. "We are really looking forward to delivering a slice of Portland to doorsteps everywhere and introducing our customers to the talented artisans in each box," added McDowell.
Tique Box is offering PDX Pipeline readers two specials this month:
Feel free to share them with friends, family and colleagues.