From our sponsors: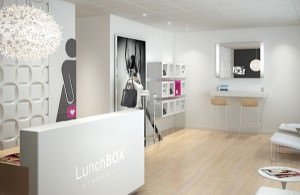 LunchBOX (A WAXING SALON) Grand-Opening Event
August 7, 2014
6-9 p.m. | FREE
More info: lunchboxwax.com
LunchBOX Portland
923 NW Glisan St., Portland, Oregon
503-208-2673
Book your appointment online at lunchboxwax.com
Mom always said you are the company you keep, so we're crazy-careful about where we open our salons. You'll find us smiling (and speed waxing) in the nation's best communities, and Portland's Pearl District is among them. That means you're amazing. You're probably beautiful, smart, genuine, successful and edgy — the whole lot of you. And we can't wait to see you.
Please join us during First Thursday from 6-9 p.m. on August 7, 2014, to celebrate the grand opening of LunchBOX (A WAXING SALON). Meet the salon's owner Bridge D'Urso. Come say hello to Lead Waxologist May Dugas as well as the entire team of waxologists. Happy hour's on us!
Tour: See the suites, meet the waxologists
Win: Automatic entry in drawing for a year of waxing services
Toast: Enjoy a glass of wine or beer
See: Allan Teger's Bodyscapes fine-art photography
About LunchBOX
Let's not beat around the bush here. LunchBOX is a full-service, speed-wax salon. The quick gist: People walk into LunchBOX with hair they don't want. Just a handful of minutes later, they leave without it, and they stay that way for weeks at a time. We cater to women and men who are mindful about the people they choose for personal care. We wax bottoms and brows, cheeks and chests – a little (like ear fuzz) or a lot (from tip to toes).
Read more at lunchboxwax.com.