From our partners: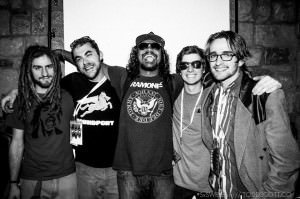 ADDverse Effects
August 1, 2014
8 p.m. | FREE
More info: Facebook
FREE MUSIC: addverseeffects.bandcamp.com
Belmont Bodega
2519 SE Belmont St, Portland, Oregon 97214
(971) 279-4863 | More info: Facebook
Live Hip-Hop and Rap Music, now in Portland, OR!
Specializing in the art of replicating true sampling and looping with all live instruments since 2012, ADDverse Effects has shared the stage with Hip-Hop acts ranging from Johnny Polygon to Afroman as well as the likes of Bright Light Social Hour, Diarrhea Planet, Other Lives, Jacob Fred Jazz Odyssey, and Mike Dillon's Band Of Outsiders.
The group's self-described "merry pranksters" make a strong effort to make its music sound like hip-hop originally sounded, by mimicking the samples and loops of the old-school method, and including elements from other genres, like jazz, funk, disco and even classical. Each member agreed that live instrumentation adds a lot of energy to hip-hop.
While instrumentation is important to the band, Rehanek and Littel don't skip steps when it comes to their vocals, either, doing their best to drop positive, thought-provoking rhymes.
MEMBERS:
Joshua 'Fiji' Rahenek: MC
Boyd Littell: Drums, MC, Hooks
Michael Stafford: Keyboards
Benja Farber: Bass
Justin Dupuis: Guitar