From our sponsors: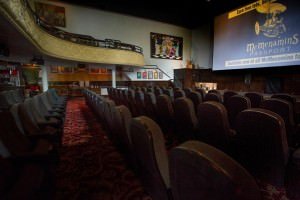 Mission Theater Reopening
$4 per ticket – Adults
$3 per ticket – Children 12 years old and under
$2 per ticket – Weekend matinee special
All shows are 21 and over. Minors are allowed only with a parent or guardian at any show beginning at or before 8 p.m.
More info: mcmenamins.com
Mission Theater
1624 NW Glisan St, Portland, OR 97209
(503) 223-4527
Valid Wednesday, July 9 through Sunday, August 31
Here's a freebie for all Passport holders: show your passport at the door, and you'll receive two-for-one entrance to a movie at the Mission Theater for use that day! We want you to experience the booming new sound system, bigger screen and new seats!
And we welcome you to come back as many times as you like and treat a different friend or family member to our new movie experience.
Are you a Cosmic Tripster? The payoff is even bigger: show your Tripster keychain, and you get free movie admission for your fine self!
Stop by this week! They're playing "The Grand Budapest Hotel," "Godzilla" and "Neighbors," starring Seth Rogen and Zac Efron.
About the Mission Upgrade
The theater is showing second-run films you can't watch on Netflix, DVD or elsewhere. We're going back to our core. It'll be movie night, every night. And with this re-dedication to movies, we've made some sweeping changes upgrading our screen, sound system, and seating.
We're installing a much larger screen, a thundering new sound system and new luxury seating for a deluxe movie experience. You'll soon find nightly movie programming here. While you're taking in a movie, you'll be able to feast on pizza from our new pizza kitchen, along with movie concessions – popcorn and beer always pair well! Cheers and happy viewing!