From our sponsors: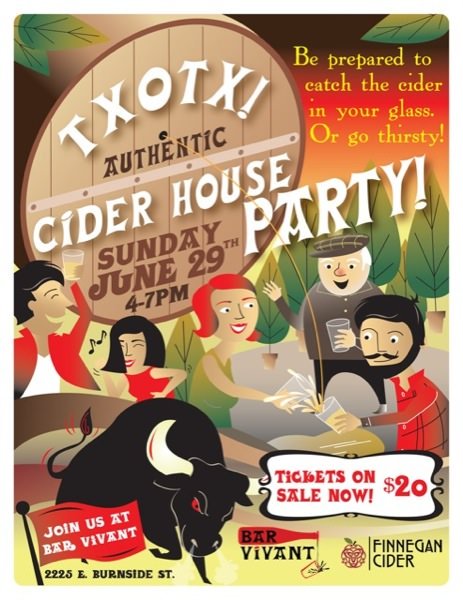 TXOTX Authentic Cider House Party
June 29, 2014
4-7 p.m. | $20 | 21+
More info: pixpatisserie.myshopify.com
Bar Vivant
2225 E Burnside St, Portland, OR 97214
(971) 271-7166
Enjoy local Finnegan Cider San Sebastian style! When you hear, "TXOTX!" grab your cider glass and head for the barrel where cider shoots out in a steam and you catch as much as you can drink before the effervescence from the catch dissipates.
This is the way they drink cider in traditional Basque cider houses and this is how we will serve it up at Bar Vivant in our outdoor courtyard. We've filled our barrel with Finnegan cider, made with the true cider apples that one finds in the Basque region, not culinary apples that leave the cider lacking complexity.
$20 includes copious amounts of cider (assuming you can catch it) and 1 tapas
Tickets available now at Bar Vivant