From our sponsors: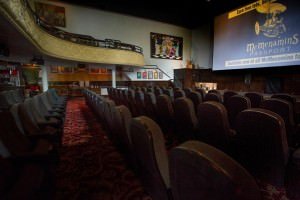 Mission Theater Reopening
$4 per ticket – Adults
$3 per ticket – Children 12 years old and under
$2 per ticket – Weekend matinee special
All shows are 21 and over. Minors are allowed only with a parent or guardian at any show beginning at or before 8 p.m.
More info: mcmenamins.com
Mission Theater
1624 NW Glisan St, Portland, OR 97209
(503) 223-4527
The Mission has upgraded to a whole new experience! Now open, this week's film lineup includes The Other Woman & Rio 2!
The theater is showing second-run films you can't watch on Netflix, DVD or elsewhere. We're going back to our core. It'll be movie night, every night. And with this re-dedication to movies, we've made some sweeping changes upgrading our screen, sound system, and seating.
We're installing a much larger screen, a thundering new sound system and new luxury seating for a deluxe movie experience. You'll soon find nightly movie programming here. While you're taking in a movie, you'll be able to feast on pizza from our new pizza kitchen, along with movie concessions – popcorn and beer always pair well! Cheers and happy viewing!